Dingyuan: Zhongwang 3D 3D CAD simplified engineering drawing design flow
October 21, 2019
As we all know, China is already the country with the largest hardware output in the hardware industry in the world. However, with the increasingly fierce competition in the hardware tools market in China, the vicious price war is the main competitive means. So how to improve the core competitiveness of products at low cost, and get out of the quagmire of price wars is one of the problems of many domestic enterprises. Dingyuan (Shanghai) Metal Products Co., Ltd. (hereinafter referred to as "Dingyuan") is one of them. The company has long relied on 2D design software in the product design and development process, and wants to introduce new 3D CAD design technology, and can also with traditional 2D. The software forms a benign collaboration that accelerates product design and production and increases market share. Finally, from the perspective of functional advantages and price, Zhongwang 3D 3D CAD/CAM integrated solution was selected, which greatly simplified the engineering drawing design process.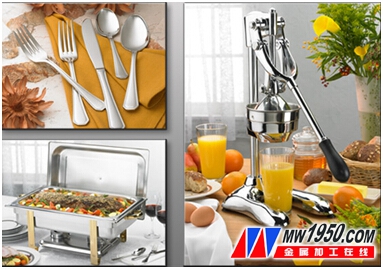 Feel free to convert your heart! Zhongwang 3D quickly generates multinational 2D standard engineering drawings

Dingyuan is mainly engaged in the production of hotel and kitchen supplies and direct sales to the United States. Most of the products are hardware and electrical appliances of hotels and restaurants, such as rice cookers, thermal insulation cookers, electric frying stoves, soup stoves, pizza plates, etc. Before the introduction of Zhongwang 3D, Dingyuan has maintained the traditional 2D software design products, but usually received drawings from the US company headquarters are 3D design drawings, which requires 3D software to open the data and immediately output the accurate 2D project. Figure, after design modification, a large number of processing and production. Now, Zhongwang 3D 3D CAD simplifies the past working mode. It supports GB, ANSI, JIS and other multi-country engineering drawing standards. It can easily customize the company's own standard drawings. It can automatically detect the model size and label the part number to avoid artificial Mislabeling makes drawing design easier and more convenient.

Cost-effective Zhongwang 3D strengthens work and inertia, alleviating financial pressure

It is understood that Dingyuan will receive a large number of three-dimensional design drawings, and the drawing format is diversified, and the search results show that there are many mistakes, which invisibly complicates the product design and processing process. Zhongwang 3D can directly and quickly input and output multi-format drawings, reduce the error rate, and directly edit and modify the drawings to ensure the data continuity between the upstream and downstream of the enterprise. In addition, it also helps companies save the high cost of purchasing mainstream software from abroad.

In the interview, Mr. Cheng, the Shanghai engineer of Dingyuan, exclaimed: "Every day we are very distressed that we received many drawings in different formats. After opening, the error rate is high and it takes a lot of modification time. But now, even UG, PROE Large-scale 3D CAD drawing data can also be quickly opened without errors, reducing the intermediate links and making the follow-up work more labor-saving.

Not only that, the powerful function of Zhongwang 3D is changing the original intention of Dingyuan to purchase software. In addition to providing fast and seamless 2D to 3D, it also has powerful hybrid modeling capabilities. Dingyuan engineers are constantly learning more functions to use them in practical work. Now, Zhongwang 3D launches a rich feature application tutorial, targeted video tutorials and drawing courses, online instant answers, allowing engineers and designers to solve problems immediately at work. For collaborative design issues with 2D to 3D, or links to participate in system-wide training, please go to the "Follow the teacher to learn 3D" section for help.

There are still quite a few companies like Dingyuan that need to use low-cost 3D design software like Zhongwang 3D to search, retouch and convert drawings. In order to allow more enterprises to introduce 3D design software with zero threshold, Zhongwang Company launched the "Enterprise 3D CAD Genuine Supporting Program" this year. More than 300 companies have benefited from it so far. As long as the company that meets the requirements to join the program can not only obtain the permanent use period of Zhongwang 3D software, but also enjoy the training and examination opportunities of CAD/CAM engineer certification, and get the discount of the follow-up purchase genuine Zhongwang software (for details) ).

Cheese Grater is the tool for shredding cheese,lemon, etc..It is made of high quality food grade stainless steel.The surface is treated with mirror light.It is sharp and durable. The handle is designed humanized, plastic handle and rubber wooden handle or pp with TPR handle.For baking enthusiast of each family,a good cheese grater makes the baking process faster, easier and more satisfying.Before the first use, clean it with warm water and detergent;After using, clean with warm water and detergent.Do not use rough emery cloth or steel ball to scrape vigorously.To store it after wiping with cloth or kitchen paper;Don`t touch acidic food.

Cheese Grater

Wooden Cheese Board In Stone,Wooden Cheese Board,Large Cheese Board,Stone Cheese Board

Yangjiang Yangdong Hongli Industries Co.,Limited , https://www.hongli-industry.com